Why Choose Us ?
Free Delivery
We Offer Free Prescription Delivery* , Please Ask our Pharmacist Today.
Free Health Screening
We provide our customers with *Complimentary Health Screening.Please Ask our Pharmacist Today.
Senior Discounts
65 years old and above can get a special discount at our Pharmacy. Call us today to claim your discount.
Friendly & Helpful Staff
We provide best possible care to our customers.
About Us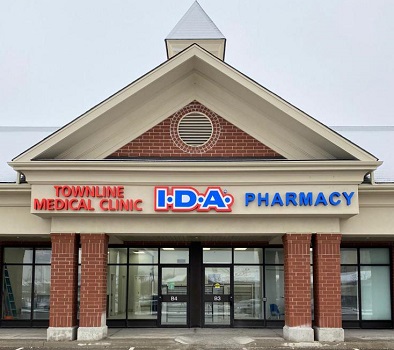 we are Compounding Pharmacy
We are Conveniently located just off the Hwy 401 & Townline Rd in Cambridge,ON.
10 Minutes from Guelph
15 minutes from Kitchener-Waterloo
20 minutes from Milton
Providing customers with exceptional service, a wide range of products, and trustworthy advice from our knowledgeable Pharmacists, we strive to meet all of your pharmacy needs.
Services
We are dedicated to providing the best possible pharmacy care.
Testimonials
A Few Words From Our Happy Customers
We are very pleased with the service Charlie and his team have provided to myself and family. Charlie has been very helpful with my Grandmother's medication changes, knowledgable and kind. He also calls frequently to ask how my Gran is doing. I would definitely recommend this pharmacy, it is always a pleasure to visit with Charlie
Caitlyn Elliot
Very pleased with the service and care we receive from the pharmacy. Patrick & Charlie have made switching pharmacies a breeze. They take the time to go over medications with you in great detail, and really seem to care about their patients.
Sara Russell
Such a pleasant experience meeting Charlie Patel and his wife today. They have just recently opened up and we look forward to doing business will them! For anyone who isn't aware, they have a walk in and are a full service pharmacy. And they have hand sanitizer! Bonus!!!! Lol. Welcome to the neighborhood! It's so nice to have a pharmacy close by! Cheers!
Kim Amorim
Went there for my sick kid. I was surprised that they took me in within 30 minutes compared to other clinic. Dr. Andre was super nice and friendly with my kid and kid got comfortable with him. He diagnosed very well. I am happy with his service. It was too handy as Pharmacy is also located there. They gave me our medications in 5 - 10 minutes. Pharmacist was very knowledgeable. He was friendly and gave us really good tips about medications and condition. I will go again and recommend this clinic and Pharmacy.
Fez paulsen
I am very very pleased by the service of the employees and the doctor here . I am an international student and ss far as i am concerned about my health , this has been the best clinic i have ever visited in my tenure in Canada. Anyone who wants there checkup done here and specifically international students this is the best clinic i would suggest and also they have special discounts if you are an international student
Vaibhav Chauhan
Pharmacist is really helpful . I am working in different pharmacy and we did not mask and sanitizer so I stop by at this pharmacy he gave me sanitizer with reasonable price . He is very kind and helpful. I recommend this pharmacy
Sandip Raval
Address
940 Jamieson Pkwy Unit B3, Cambridge, ON N3C 4N6
Email
townline@townlinepharmacy.com